26 Oct 2019
Eights Months and Counting
Author: brownie1201 | Filed under:
Uncategorized
Hi Everyone!
Mom said today is a special day because eight months ago today I was diagnosed with cancer, and all odds were against me surviving this long.  Mom said it all has to do with diet, supplements, and lots, and lots, and lots of love, and also to the Tripawd Community for all of your support!  I think mom would of gone crazy without all of you!
I do have good days and bad days, but mom said that is due to my age.  Mom said she has good and bad days as well!  I guess it is just a part of getting older.
Also, Christmas is just around the corner!  I can not wait.  I have been especially good this year!   Santa always brings Max, Sassy and I gifts, but I am expecting something big this year!
Sally!  Do you know what?  Mom said I can have ice cream for desert tonight to celebrate my 8th month!  YEA!!!!
Well…That's all for now,
Love Brownie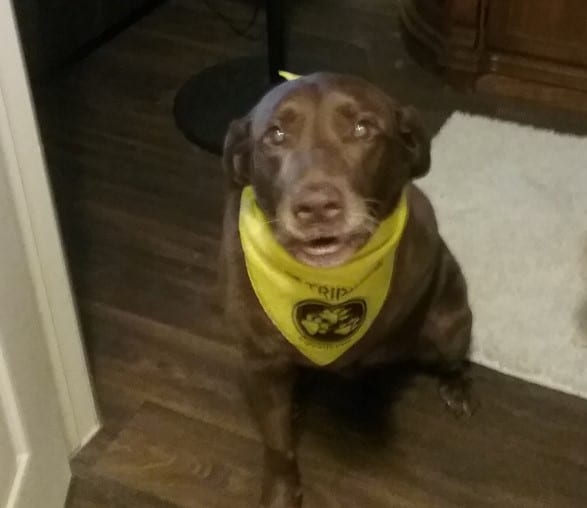 3 Responses to "Eights Months and Counting"
benny55 Says:
October 27th, 2019 at 3:24 am

ICE CREAM???? ICE CREAM???? YOURE GONNA GET ICE CREAM FOR YOUR EIGHT MONTH AMPUVERSARY???? YAY FOR BROWNIE!!! And so well deserved sweet Brownie!! In fact, I'm gonna share some of my ice cream tonight with Merry Myrtle and Frankie so we can celebrate with you🍦🍨

Brownie, you are such an insp, such a Beacon of Hope for newbies. You are proof that statistics don't mean squat around here! And without question, while all the supplements, diets, etc, are certainly helpful, LOVE, of which you have plenty, is THE best "treatment" you could ever receive!!!

And yes sweet Brownie, aging is no fun. Yes, I know it beats the alternative, but still, it sucks!!! Once it starts creeping up on you, it increases at a rapid fire brutal pace!

I KNOW Santa Claus is going to bring you, Max and Sassy soooo many wonderful presents because you are all such good critters! And I also know your Mom already has the best Christmas present ever all year long. Yeah, you know it's you!! And, you kmow Max and Sassy are a gift to her also, even if they do have four legs😉

Thanks for inviting us to da' pawty today. We loooove celebrating YOU!!❤❤❤

Lofe and hugs
Sally and Alumni Happy Hannah and Merry Myrtle and Frankie too!

jerry Says:
October 28th, 2019 at 5:31 pm

WHEEEEEE! Hoppy Number Eight Brownie, you are rockin the Tripawd life my friend, and make it look easy. What's your secret? Ice cream? ;0

And if you ask me, humans have waaaaaay more bad days than dawgs, don't you think? I do! We are resilient! We are fighters! We are PAWESOME!! Especially the 3-legged kind 😉

My guess is Santa's Elves are working overtime to get your pressies made in time. You deserve a serious spoiling!

But we need PICTURES!!!!! Got some?

paws120 Says:
October 29th, 2019 at 10:00 pm

Hoppy eight months Brownie!! So glad you are doing well 💖 I know all mama's TLC helps keep you happy and healthy.
Wishing you many more!
Hugs,
Jackie and Huck 💖