5 Sep 2020
Six Month Angelvursary
Author: brownie1201 | Filed under:
Uncategorized
Six months ago today Brownie and I said Goodbye.  Sometimes it seems like yesterday, and sometimes it feels like so long ago.  I think the ones who have been through this journey know exactly what I mean.  Even though Brownie's last day was heartbreaking, I did feel a sense of relief.  A sense of relief, because I knew he would never be in pain again.  A few hours before Brownie crossed over, he hopped up to me, looked me right in the eye and wagged his tail.  I was feeling guilty that maybe we said goodbye too soon.  Then Sally, who is always right, said it is better to have a good memory then a bad one.  Well, I have been doing a lot of reading, and have read that our pets know when they are going to pass over, and will leave us a memory moment.  Something they have not done before, or have not done in awhile.  Brownie had not hopped up to me like that in over a week, but he used to do that several times a day.   I now know that Brownie was giving me a memory moment.  He was telling me "Mom I know it's time, but it's going to be ok.  I will still be with you".  I can not get that picture out of my mind.  On March 5, 2019 I did not let my feelings show, because this day was about Brownie, not me.  After he crossed over I didn't cry much.  I thought "what's wrong with you?"  It turns out, even though I was with him when he crossed over, I was in denial.  I kept waiting for him to hop around the corner.  I would constantly get up to go look for him.  I even found myself in the toy aisle picking out  a new toy.  When the day came to collect Brownie's remains, I was excited.  Brownie is coming home!   But when they brought out a bag of  his remains, foot print, and fur clipping, It hit me hard! I lost it right in the middle of the vet's office.  At that moment I realized Brownie is not coming home.
I could not pack up Brownie's things and throw them in a closet.  So I made a nook.  I would like to thank the ones that contributed to Brownie's nook.
Jim (Admin Guy) The popular Brownie Banner that always pops up when I need to see it the most.  My heart skips a beat every time I see it.
Rene (Jerry) I have one of my beautiful Tripawd Necklaces hanging over Brownie's urn, and another piece you sent me hanging over one of his pictures.
Sally – The beautiful cardinal dish, and the note that you wrote I keep inside the dish. I am continuing to search for the cardinal.  Aso, the card "Sunshine".  The song I always sung to Brownie, "You are My Sunshine".
Jackie – The card you made of Brownie and Grizzly.  It reminds me of such good times!  I remember when I use to say to Brownie "Go Get Grizzly".  Brownie would run up to Grizzly's door, bark as if he was telling him to come out and play.
Bev – I have the two beautiful stones sitting in a dish from Italy.  They are just beautiful!  I am still researching them, and will use them to connect with Brownie.
Lana – Thank you for the gift book "Every Dog An Angel".  I have read it several times, and it brings me comfort.
Paula – The beautiful card you posted when Brownie passed sits next to his urn.  I have not taken the necklace off since I received it.  I will always carry Brownie's heart in mine, as you do for Nitro.
Karen – The first post you wrote "I would take hate the vet into consideration".  I am so happy we did, and was happy that someone else understood the reason I made the decision I did.  I have a copy of the post in a Memory Book that is filled with letters and poems I wrote to Brownie when we started this Journey.
Ava's Mom – The post you wrote about Brownie's journey thanking him for helping you through your own journey .  That means so much!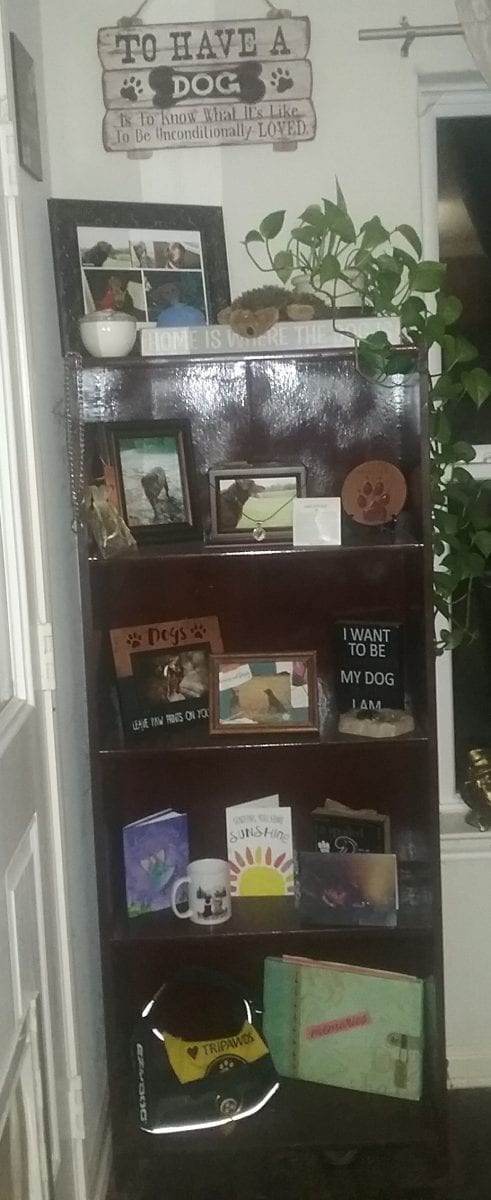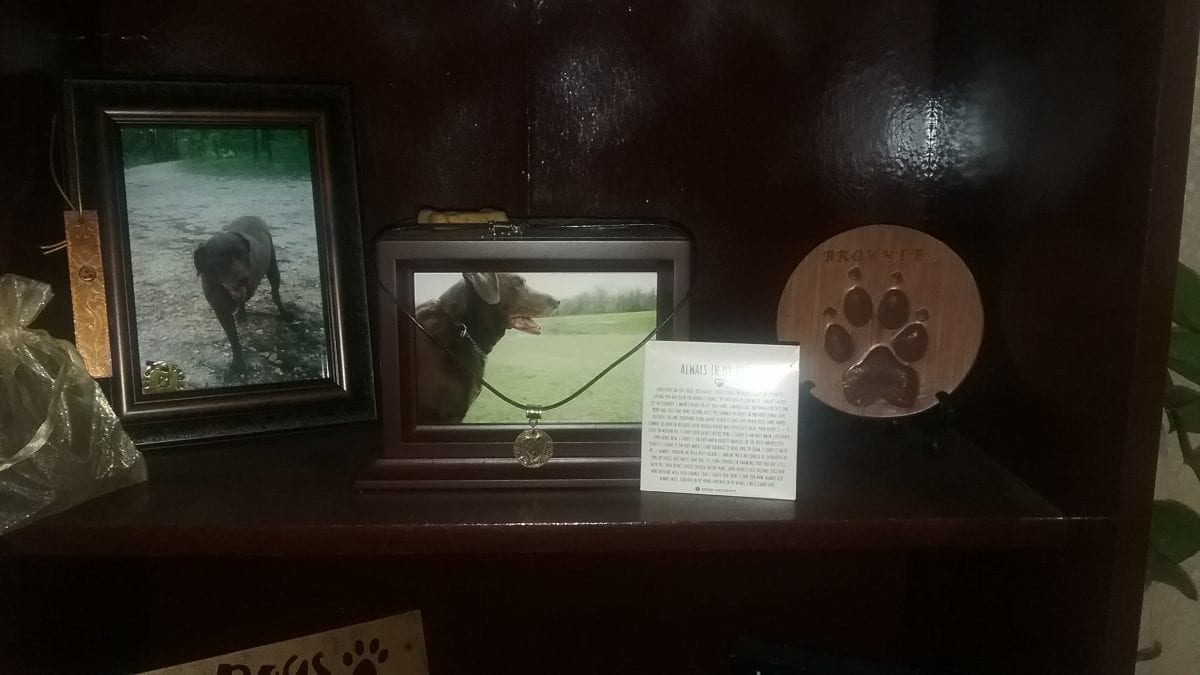 Today is bittersweet.  Today is Brownie's six month Angelversary, but also the day Kenzie comes out of quarantine due to the mange.  I think Brownie knew I would be sad today, and wanted me to have something to celebrate.  That is just who Brownie was/is.  Always thinking of Mom. Some of you say I have a heart like no other, and I really didn't get it.  But now I know. Brownie is not in my heart, He is my heart!  He is the one that has a heart like no other!  Years ago I bought a plaque that reads "I want to be the person my dog thinks I am".  I hope I was the mom that Brownie wanted, and so deserved!  Brownie made me a better person!
My Dear Beloved Brownie, You rescued me in so many ways! I am so sorry I was unable to rescue you…
I loved you yesterday, I love you today, and I will love you always!
5 Responses to "Six Month Angelvursary"